So this happened OMG Then that happened… OMG… Then… OMFG!!!!
Let me go back to the beginning…
I WANT TO THANK YOU
It's Monday, October 26.  Perhaps I should have seen this all coming when I made the DC promo video. That's me entering Altar Bar in Pittsburgh, moment before David said he liked my review of the album – and the first time he called me by name. OMG!!!
We arrive early in DC. That's me holding parking space for other Duchovniacs across from the Howard – wearing the MILK CARTON T-Shirt.   
Cool statue of Duke Ellington – It don't mean a thing! (But do nothing till you hear from me OK?)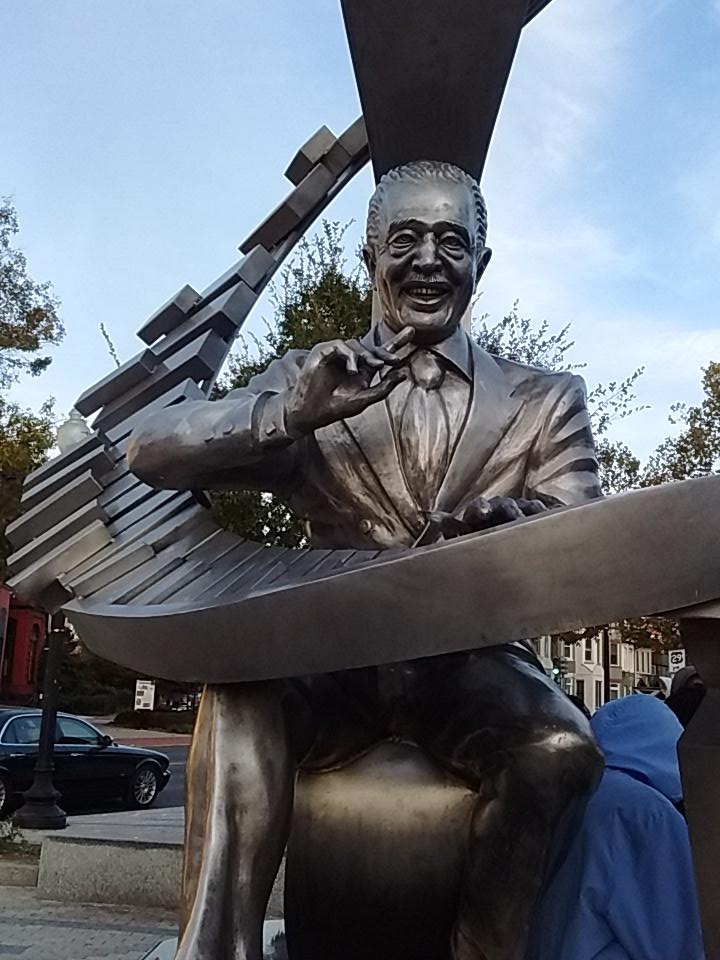 First in line at the Howard Theater
If you need rehearsal dummy for lighting, we… I'm here @Braddny @ThinkSayRecords @davidduchovny @weathertheband pic.twitter.com/APoDBG9G2I — LMAO Improv Time (@waltfrasier) October 26, 2015
Slowly the line grew
Hello David from the line outside @davidduchovny @ThinkSayRecords @Braddny PS sound check sounds great!!! pic.twitter.com/xFqFfHsifc

— LMAO Improv Time (@waltfrasier) October 26, 2015
I decided to pass the time by getting my guitar out of the car…
when this happened …
I thought the band was going to get coffee like in Pittsburgh, but then YOU KNOW WHO walks out and says "HI", to which we respond "HEY" Always the true percussionist, Davis just watched and laughed
Never one loss for words I did the only thing I knew I could – HERE, DAVID, YOU PLAY. Perhaps if I had a little more chill this could have become an amazing jam session.  
I heard many say later they may or may not have soiled themselves watching this. My wife tried to run away – that's her thing around David – but exit was cut off, so she just ducked down and hid in the crowd.
so David just came outside.. 😁😁😁 pic.twitter.com/zye24NXjtZ — ale (@duchovbutt) October 26, 2015
I would have given Pat the guitar but he was busy
I think that topped sound check at Joe's in Chicago, right? David and company went back inside. We waited a little longer. Finally we were let in for our meet & greet.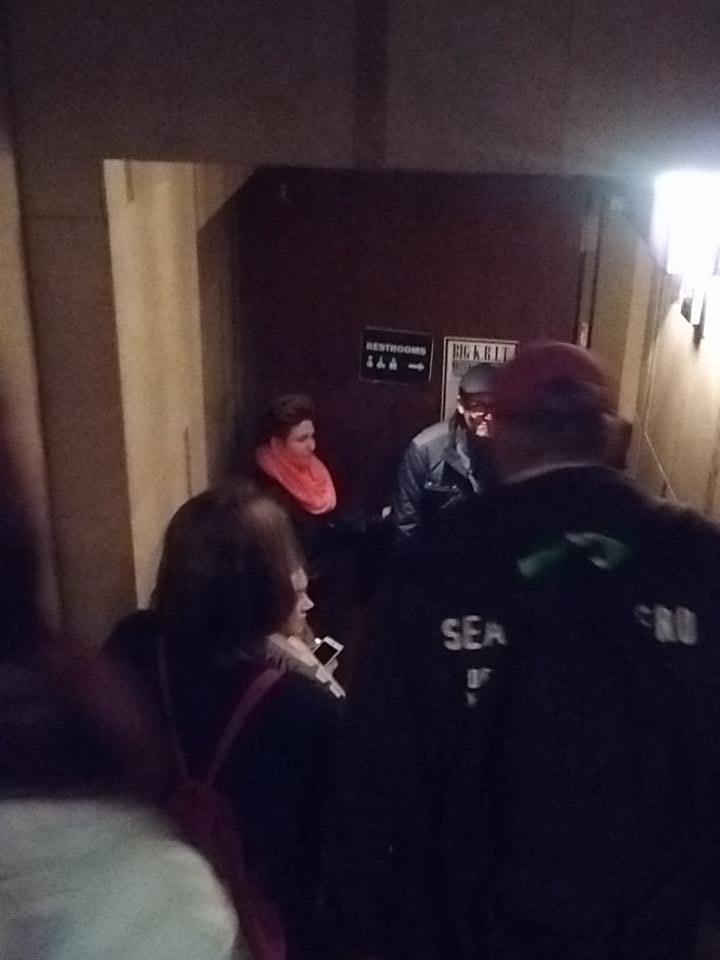 Not to worry bathrooms were next to green-room. We did not get selfies with Mr. Duchovny on the toilet.

I was so excited  More importantly was what happened in the green room. I forget the exact words and how this went down exactly. To be fair the whole day was a daze after what came about 2 hours later. I walked in saying "Hey, the receiving line" regarding the arc of entourage (band, record label, photographer) all in a curved row leading to David. But I know it ended with me walking away saying "I have the notes for Another Year" David Duchovny "You mean Pat's part?" (or something to that effect. I think. Seriously I should remove quotation marks) "Sure" and I proceeded to sing "WOO WOO" – What a schmuck I was walking out while still talking. I was on cloud nine (I hit cloud 11 by end of night, as alluded in my tweets at the time). All I could think was "I hope David realizes I walk away in middle of conversation because of nerves and total lack of chill". I meant no harm or offense by my rudeness.  So out of it, when I looked at my phone upstairs I screamed "I forgot to give my phone to Kerry Lee." WTF. So eagerly awaiting THINKSAY to post photos somewhere.
Showtime pic.twitter.com/dkm9kY8zlw — LMAO Improv Time (@waltfrasier) October 26, 2015
Oh well, I get a drink. I was being such a duffus LMAO!!!
Showtime crowd excited pic.twitter.com/N0S1ksMSGB

— LMAO Improv Time (@waltfrasier) October 27, 2015
 Concert starts. .
Let it rain pic.twitter.com/DHTG0o07mW — LMAO Improv Time (@waltfrasier) October 27, 2015
So you know, doing my thing.  I love the new songs 2nd Album almost ready to go? BTW We got three originals not on HELL OR HIGHWATER.
Had to take break from front row. Sounds amazing back here. Better mix pic.twitter.com/yujIK6kmeY

— LMAO Improv Time (@waltfrasier) October 27, 2015
Yeah, my feet were tired. Exhausted from driving 4 hours and standing in line for many more. Found my sister hanging in the back. From the back the sound is CD quality. Love being up front but…
"Where's Walt Frasier"
Sorry, my thoughts were interrupted by what I thought sounded like David Duchovny saying my name from stage.
"OVER HERE!"
I screamed as I slowly staggered forward. It as so surreal. I thought they were kidding. I think maybe I was supposed to stay in green room longer and plan this a bit. I get to the stage. My sore legs and feet struggled getting my 300+lbs up on stage.
"Nothing's going to stop Walt!" David exclaims
I was looking around for stairs when I saw Colin and Nate heading my way to help me up.
"This is not going to end well" We hear David on the Microphone.
OMG I am going to pull them into the crowd. Getting on stage, you could say I was failing better? I finally pop up and shake David's hand. I point to a few mics questioning where I should go. He points to his microphone and whispers a few directions.
"Make sure you get out of the way IN TIME FOR ME TO SING"
my only response "So I am McCartney to your Lennon?" DUFFUS STRIKES AGAIN
Davis begins
SING SING SING
 – er um – I mean Another Year on drums.
Right before I sing, David made sure I was aware of his drink so as not to spill it. (Sorry can't tell you anymore about what's in the cup)  Little did he realize, on stage was the only place I am calm cool collected and hyper aware of my surroundings. Or maybe he was simply concerned I would drink it.  Musically I rushed it a bit, winning the race to end a WOO WOO phrase. Can you blame me? You know what, watch and judge for yourself and we discuss in a few…  
OH, YOU'RE BACK… Singing I give myself a C. But I thought our transitions were flawless. Although my last dance away did get the crowd going to the point David had to pause a few bars. Too hip-hop maybe? Watching the video, I realize I once again ran away before formally thanking David. I applauded all and in one motion – responding to Brad and Kerry waving me over – exited stage right. My tweet after the song was a little blurry from shaking hands
Omg I just sang on stage pic.twitter.com/eConTIBS3w — LMAO Improv Time (@waltfrasier) October 27, 2015
The rest of the night was a series of thank yous to all involved with the band, including some of the band. I felt like a celeb myself
Take us home Pat pic.twitter.com/8i7MLgU8OW

— LMAO Improv Time (@waltfrasier) October 27, 2015
MEANWHILE We missed this teaser, Monday, playing during Gotham on FOX
Hey X-Philes- did you see this during @Gotham?! #TheXFiles https://t.co/No9DgnCvfN — The X-Files (@thexfiles) October 27, 2015
Seriously can't say thanks enough!!! @davidduchovny @Braddny @Kerrylee and esp Nate and Colin for hoisting me onstage… C u in NYC

— LMAO Improv Time (@waltfrasier) October 27, 2015
TUESDAY in NYC at Webster Hall  
Check out @davidduchovny & crew rocking out last night in NYC. #HellorHighwater @ThinkSayRecords pic.twitter.com/ijsLeeuBU5 — X-Files News (@XFilesNews) October 28, 2015
Ok, seriously after Monday the rest of the week was awesome but a tough follow. – We have an entire post dedicated to the three days of stories but there were a few stand-out moments. I really treasure the 3 days with all our Duchovniacs. We bonded over great drinks and food when not in the presence of you now who. On Tuesday I took Duchovniacs to my family's favorite watering whole, McSorley's on 7th Street. The oldest bar in NYC that has stayed open through prohibition etc
#duchovniacs ready for Webster hall pic.twitter.com/WmexxusA5Y — LMAO Improv Time (@waltfrasier) October 27, 2015
We finally arrive at Webster Hall
Marlin Room ready to rock? PS the band just arrived pic.twitter.com/q3a4pGxTNJ — LMAO Improv Time (@waltfrasier) October 27, 2015
Once again, my feet were killing me. Driving, standing in line, waiting for concert to start, dancing etc. I do not think I ever followed a band around three days in a row in my life. Camped out for stones tickets once but nothing like this.
The Rain Song gettin crazy in this joint pic.twitter.com/fQitnPGM0o — LMAO Improv Time (@waltfrasier) October 28, 2015
So if anyone has this next moment on film – or even photo – I need to see it. David Duchovny says "Where's Walter?" David finds me in the crowd and gestures
OMG this gets better and crazier every moment. WEDNESDAY in ARDMORE, PA
Warming up the crowd for David Duchovny lol @ArdmoreMusicPA @ThinkSayRecords @Duchovniacs pic.twitter.com/nkp20hxmZc

— LMAO Improv Time (@waltfrasier) October 28, 2015
Can I just say really quickly how much I love Ardmore, PA. the people were amazing. We had a killer lunch across the street at Tired Hands brewery. 
We're ready @davidduchovny pic.twitter.com/aoHTH4m7Fw — LMAO Improv Time (@waltfrasier) October 28, 2015
Not sure if anyone got a photo/video of this moment but, as the band came out to play, Pat brought me a pitcher of beer. Maybe this was a call back to Bub's (Chicago) or perhaps their way of saying stay up front tonight, big guy! That made my night on Wednesday. Sang with the band on Monday. Talked to David from stage on Tuesday. And FREE BEER on Wednesday. HAT TRICK!!!
Encore pic.twitter.com/GnMVTQ7dQD

— LMAO Improv Time (@waltfrasier) October 29, 2015
I have to say thanks to David, Pat, Colin, Mitch, Davis, Nate, Kerry, Brad, the entourage, the fans, the venues, the towns, the locals putting up with us NYers, and anyone else I may be leaving out. We saw old friends and made many new friends. We hung out with great people from Canada, Germany, Spain, Russia, Brazil, VA, NY, NJ, PA, MA, TX – I know I am leaving out a few. We all came out for Duchovny, but we left an ever growing family of dear friends, and an invite to Oktüberfest 2016 in Germany. We're hoping to be there, Elsie Cow!!!
EV'RYBODY
I WANT TO THANK YOU (DAVID) DUCHOVNY FOR BEING YOURSELF AGAIN! (In fact this is what I wish I sang when he stuck the mic in my face Wednesday)
#HellorHighwater @davidduchovny pic.twitter.com/Mls6k8B6D3

— Lauralea Sharra (@Lilykakes) October 29, 2015